If you're looking for a new source to buy checks and coinciding supplies, QuickBooks may be your answer.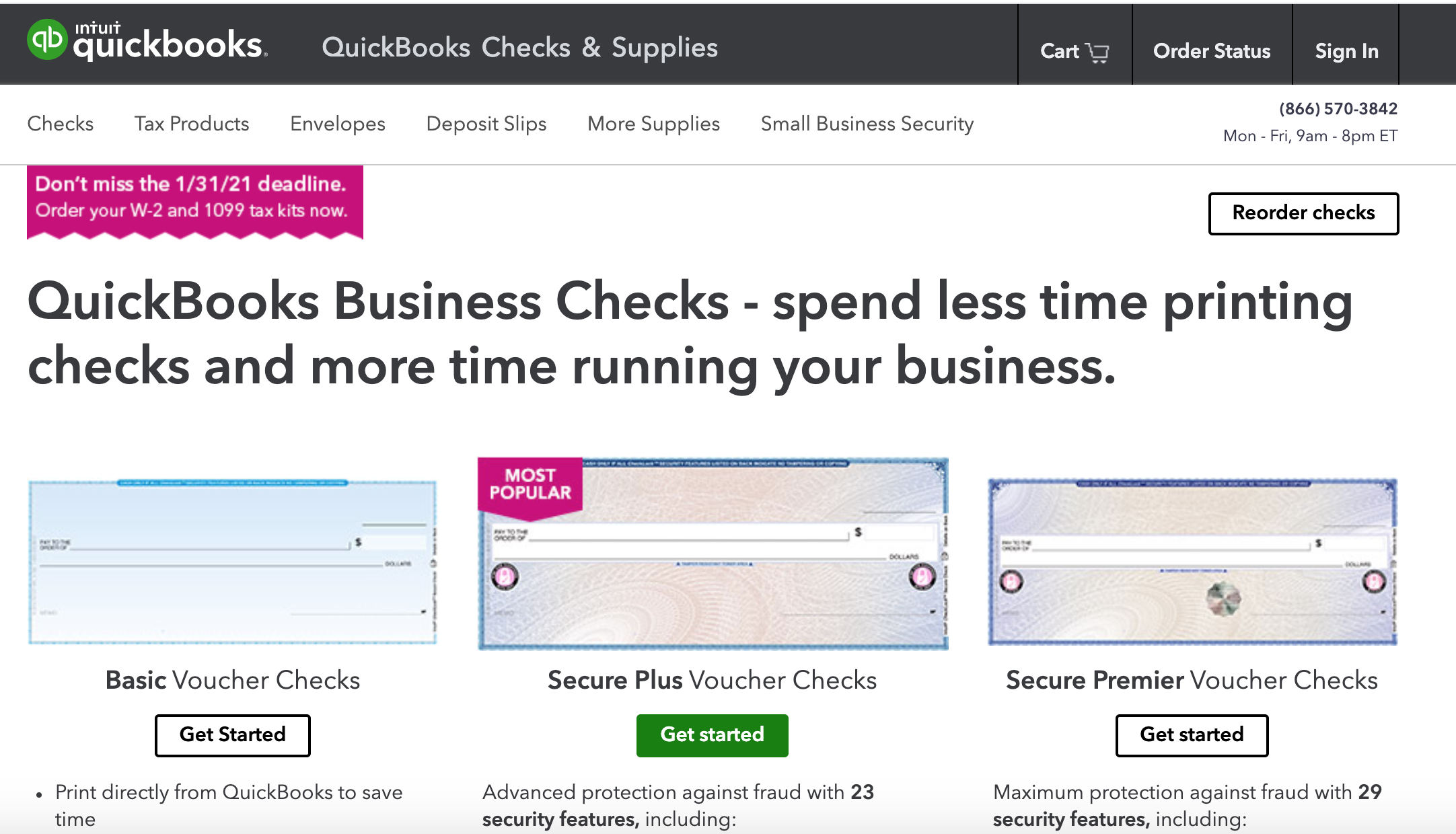 Does QuickBooks have everything you need in one location? Are you able to order swiftly and let the company take care of the rest? We look at this and more in our review. Come and see what some of the customers have to say about the company and its checks!
How to Choose a Supplier for Business Checks
There are many suppliers out there, and the one you choose must meet the needs of your business in a streamlined, organized fashion. As such, keep the following priorities in mind:
Safety and security of your company's paper trail.

Compatibility with your accounting software.

Bolster your company's branding with customized forms.
Why Is QuickBooks the Best Option?
QuickBooks offers an expansive collection of business checks and coinciding office supplies. It caters to small and mid-sized companies but can service larger entities as well.
Its products are compatible with the well-trusted and revered QuickBooks accounting software packages.
The exclusive security features ensure your company's accounting is in safe hands. Specific options are available to protect small businesses that are prone to business identity theft.
The company offers a reorder reminder, so you have enough time to receive a new shipment before your checks run out come payroll time.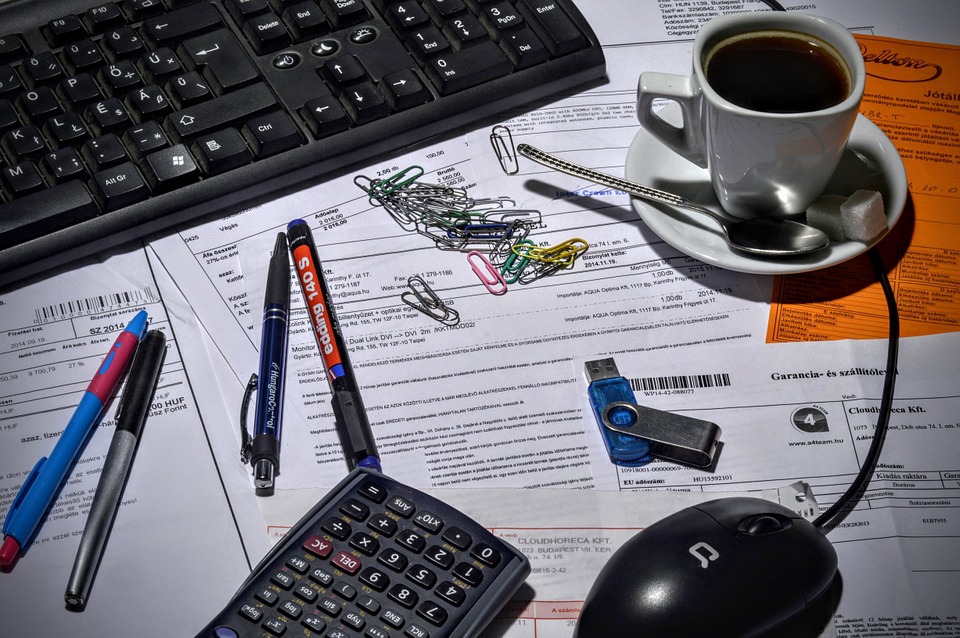 What Does QuickBooks Offer Your Business?
QuickBooks prioritizes the needs of your company, and this doesn't end with its popular accounting software.
A variety of business check styles and deposit slips are available, depending on your needs. They offer flexibility in design and different levels of security to boot.
Quantities sold begin at 50 up to 5,000 per item ordered, depending on the product.
We've put together the mainstays of this company, so you have a better idea of what they offer:
Voucher checks.

Standard QuickBooks-compatible checks.

Business wallet checks.

Manual business checks.

"Office and Away" checks.

Other office supplies, including security software.
Voucher Checks
Ideal for accounts payable and payroll, these basic voucher checks are compatible with inkjet and laser printers. They automatically track payroll deductions and payment details, saving your company some processing time!
Basic voucher checks include:
One check and two pay stubs per perforated page.

Print directly from QuickBooks.
We especially like that you get to print directly from QuickBooks. Features like this are really important for business process savings.
To maximize protection from fraud, QuickBooks offers two additional lines, titled "Secure Plus" and "Secure Premier." You'll find both lines further described in our security features section below.
Standard QuickBooks Compatible Checks
These custom business checks are easy to use and included under the Secure Plus and Secure Premier lines.
Standard QuickBooks compatible checks include:
Three checks per page.

Form leaders available to keep pages aligned with a printer.

Print directly from QuickBooks.
Business Wallet Checks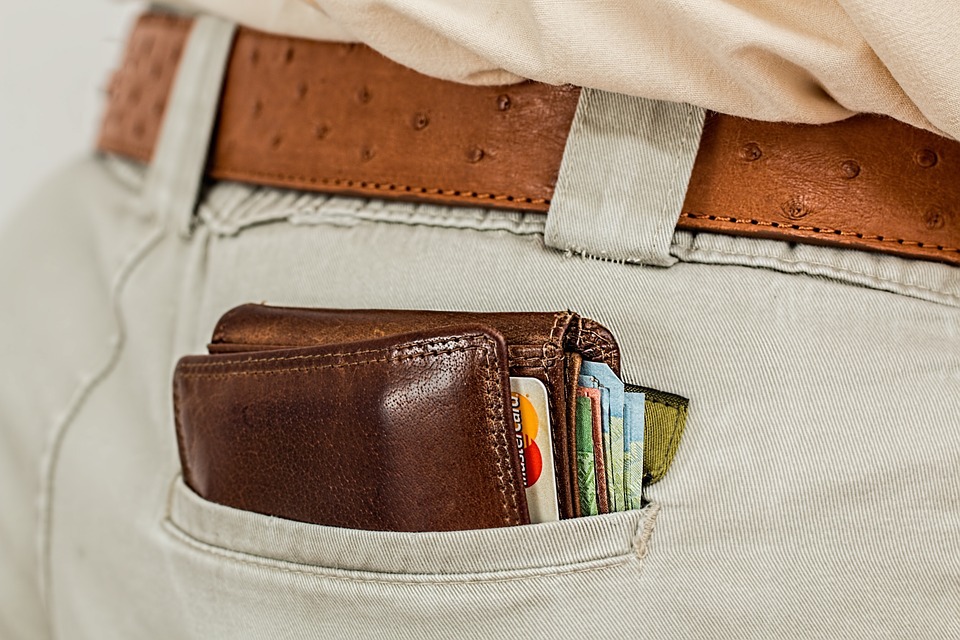 The basic QuickBooks wallet checks are compatible with QuickBooks or Quicken 2006, or newer. For those functioning on software from 2005 or before, QuickBooks recommends using standard checks instead.
While they do sell this category for earlier software, the check style doesn't adhere to updated regulations. This means some banks may classify them as unprotected and void.
When wallet checks are printed directly from QuickBooks, the software automatically notes expense and payment information. Yet another excellent automation feature!
Basic business wallet checks offer minimal fraud protection, but QuickBooks does offer their Secure Plus line here as well.
Business wallet checks features are:
Stubs included.

Three checks per page.

Compact size (can fit in a standard wallet).
Manual Business Checks
If your company prefers to keep a by-hand option around, QuickBooks manual business checks could fit the bill.
Manual business checks include these features:
Three checks per page.

Detachable check stubs included.

Compact and easy to carry.
QuickBooks claims its manual business checks cost 30 percent less than competitors' options.
Office and Away Checks
Last but not least, QuickBooks line of "Office and Away" checks can be printed directly from QuickBooks or written by hand when you're traveling.
They are, however, not compatible with QuickBooks Online or Intuit Online Payroll.
These checks are meant for extenuating circumstances instead. They provide flexibility and a backup payment option when colleagues aren't deskside. This makes them excellent for those emergency situations.
Office and Away checks boast the following:
Three checks per page.

Manual or digital printing.

Easily carried in a check binder.
Other Supplies
For many companies, ordering their supplies from one place ensures consistency and convenience across the board.
Other supplies offered by QuickBooks includes:
Tax forms, including blank or pre-printed W-2s.

Standard and custom-printed envelopes.

Deposit slips, both printed and manual.

Stamps, labels and security pens.
QuickBooks Detect and Defend software is worth a mention on its own. The company offers a free 30-day trial, and it costs $9.99 per month afterward.
This software includes:
Detection measures for possible theft.

Alerts for any fishy changes made to your account.

24/7 support and legal advice to resolve any issues.
Benefits of QuickBooks Checks
Now you have a better idea of what QuickBooks can offer your business where customized checks are concerned. How can your company benefit from these services?


Streamlined Accounting Process
Quickbooks, well, they offer it all. This company leaves no stone unturned where supplies and security are concerned.
Your office staple items, software and digital security system can work together smoothly thanks to QuickBooks. You'll spend less time hunting for compatibility features and instead put your efforts where they belong, which is in your business.
Security Features
QuickBooks offers an ample amount of security features for your checks. This includes CheckLock Fraud Protection:
Free replacement and delivery for compromised materials.

Extra security precautions when placing an order.

All orders sent with custom-designed packaging for protection.

High-level background checks at all printing facilities.
Furthermore, you can choose from three levels of security for QuickBooks check products. These are Standard, Secure Plus and Secure Premier.


Standard
All standard QuickBooks compatible checks offer a minimal amount of protection, including CheckLock.
Other standard security features are:
Chemically reactive paper, which creates stains if there's an attempt to wash them.

Erasure evident.

Void indication. "VOID" will appear on paper if a copy attempt occurs.

Original document security screen.

Fraud-sensitive ink.

Security weave, which deters counterfeiting through difficulty.

Warning bands help recipients authenticate checks.
Secure Plus
Along with the features listed above, the Secure Plus packaging takes it up a notch with an array of additional features. It's the most popular option, according to QuickBooks. These include:
Invisible fluorescent fibers.

Heat-sensitive icon — can't be replicated with a copier.

Exclusive watermark.

Custom pantograph — nearly impossible to replicate.

Premium grade security paper used.
Secure Premier
The Secure Premier line maximizes your security options. Do take note this category is only available for voucher checks and standard QuickBooks compatible checks.
QuickBooks claims it's the most secure check available on the market.
Taking all features listed in both categories above, Secure Premier also includes a security hologram making the chance for counterfeit extremely low.
What Do Customers Say?
We've scoured the web to find quality reviews from QuickBook customers. It didn't take us long to find thousands of positive testimonials about this company:
Jorge, a warehouse coordinator for a mid-size family business, has been using QuickBooks for several years. He praises the company's process for its organizational features, including reordering and inventory lists. QuickBooks has kept his expenses in order with descriptions and details for each.





Another satisfied customer is Richard S., who's a co-owner of a marketing company in Brooklyn, New York. He raves about how easy it is to use QuickBooks and its superior customer service. Paying employees hasn't been easier.

A finance and HR director, Samantha, has been using QuickBooks for over two years. She's happy with the ease of use and convenience the company offers. Describing QuickBooks as a "one-stop-shop," she praises the payroll features.

Alternatives to QuickBooks Checks
We look at three alternatives to QuickBooks, below:
CompuChecks.

Deluxe.

Checks Unlimited.
CompuChecks - Best in Price
This company boasts an impressive list of check color and design options for business checks. It also sells QuickBooks-friendly checks with limited styles available.
Its security features aren't far from what QuickBooks provides, although the latter claims to offer one of the most secure options on the market.
CompuChecks has much to be desired where customer service matters, but it does offer unbeatable prices. Your three-per-page standard business checks will run you around $30 for 300 checks.
In summary, CompuChecks' features are:
Wide variety of custom check options.

Compatibility with QuickBooks.

Lacking customer service.
Take a look at Compuchecks here.
Deluxe - Best in Customer Service
Deluxe provides free sampling before you place an order. Tap into their quality customer service by placing a quick phone call.
It's one of the largest check printers in the US. It prioritizes security with features that surpass regulations laid out by the CPSA (Check Payments Systems Association).
The company also provides your business with a free risk assessment to ensure your products are safe and secure.
Your first order of business checks will include a $50 off coupon. A regular order at $76 will provide you with 51 standard QuickBooks-compatible business checks.
Deluxe differs from QuickBooks in the following features:
Free samples available.

Free risk assessment.
You can check out their website over here.
Checks Unlimited - Best in Design
This well-known company offers a variety of formats and designs for your business checks.
Like Deluxe, its security features exceed CPSA requirements. It includes tamper-proof indicators such as a hologram and a professional border.
For 500 classic computer checks compatible with the QuickBooks software, your company pays approximately $84. The standard checks directly from QuickBooks runs at around $103 for 250 checks. This is without added security features.
Points to note are:
Surpasses CPSA guidelines.

Cheaper than QuickBooks.
Checks Unlimited regularly offers discounts to boot, so head on over to its site to take advantage of this.
Conclusions
If your company is on the hunt for an efficient and comprehensive accounting and payouts system, QuickBooks provides that.
We can't deny its high price compared to other companies out there. But, QuickBooks makes up for that with its variety of services from highly-secure checks to computer software options. You get to choose just how secure your business checks need to be.
Does your business require wallet checks for on-the-go meetings? Do you still need a manual option when a moment calls for that? Your choices are vast with QuickBooks.
About CheckDeposit.io
CheckDeposit.io offers businesses a solution to secure business checks and deposit slips. It integrates easily with multiple accounting systems, including QuickBooks.
Swing by and come and see what we're about!